A scent of Seychelles in the air - Exotic Scents makes natural soaps look so good you want to eat them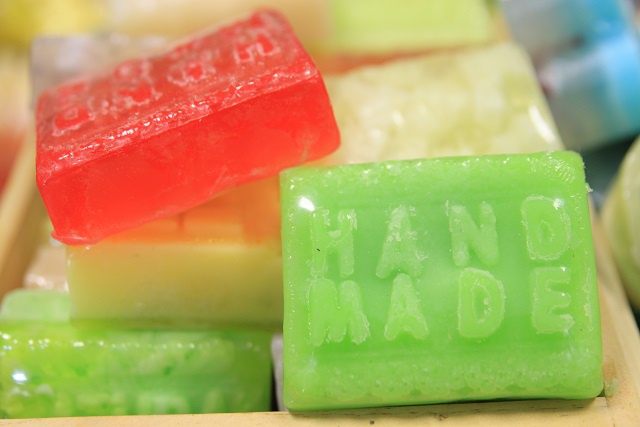 Some of the locally made soaps using natural ingredients produced by Exotic Scents on display. These products have made the company owned by the Sullivan couple receive the award for Best Artisan in 2014 from the Seychelles Chamber of Commerce and Industry, SCCI, recently. (Joe Laurence, Seychelles News Agency)
Send to Kindle
(Seychelles News Agency) - Walking into Exotic Scents, your sense of smell immediately detects a clean, fresh, crisp scent that fills the entire shop.
Located at Eden Plaza shopping centre, on the reclaimed land of Eden island, just off the main island of Mahe, Exotic Scents specializes in the production of soaps, massage oils and various other body care products. What sets them apart is the fact that these products are all natural; made using vegetable oils, plant and fruit extracts, and other essential oils.
The company now has over 90 different scents and their products vary in smell, shapes and sizes. From simple island hazed, amber, lemongrass, mango, papaya, pineapple, orange and ginger, rose and star fruit scented soap bar or scented soaps molded into a green geckos, tortoises and flowers.

Owned and run by a Seychellois couple, Maria Sullivan and her husband John Sullivan, the business initially made little craft items and soap packaging, whilst specializing mainly in jewellery making. 
The artisans behind Exotic Scents; Seychellois couple, Maria and John Sullivan (Joe Laurence, Seychelles News Agency) Photo License: CC-BY
"But then we realised over the years, that the market was really saturated and it was really hard to make ends meet, so we decided to do something different, something new, so we sat and thought of ideas", said Maria Sullivan in an interview with the SNA.
It was then that Exotic Scents came about, as a desire to do something more specialized.
"At first I was a bit troubled getting into it, because I did not know if it was going to work, because people are used to buying cosmetic soaps here, and I knew it was going to be difficult because the price to make natural soap is three or four times more. But we studied it. It is very creative work. With natural soaps you can make so many designs, so many different shapes, and I also specialize in making moulds. So in the end it was a good choice" said John.
Designs for soap includes teddy bear shapes and many more which has been crafted by the Sullivans. (Joe Laurence, Seychelles News Agency) Photo License: CC-BY
Two and a half years later the products of this business decision were recognized as one of the Indian Ocean archipelago's best artisanal products as John and Maria won the Best Artisan award at the Seychelles Business Awards 2014. This award was presented at the Seychelles Chamber of Commerce and Industry's Annual Business Ball, held at the Eden Bleu hotel on December 6, this year.
"It's a very big achievement," said Maria reminiscing the first day they started the artisanal work on the beach of Beau Vallon in the north of Mahe island. "For [us] to have grown all those years and now to receive an award is a great satisfaction," said a very proud John.
"…. what may have made us stood out is our motivation, creations and product innovation.... having put ourselves out there in each and every fair has really paid off. We've been doing artisanal work for eleven years so after eleven years to be finally recognized it's good," she added.
Maria and John, also have a shop at Camion Hall, located in the heart of the capital, Victoria. The shop J&M sells jewellery and crafts and a limited selection of soap products, while Exotic Scents is their specialized shop at Eden Plaza. 
One of the two outlets selling products from Exotic Scents. (Joe Laurence, Seychelles News Agency) Photo License: CC-BY
Fabricating unique soaps with a Seychelles touch
With the exception of a very few materials such as the popular lavender oil that are imported from various countries, all other materials are sourced locally.
"We have an abundance of coconut oil here, Aloe Vera, cinnamon oil, frangipani oil, among others, so why not use them!" exclaimed Maria.
Unlike the common perception that soap can be made in a matter of minutes, Maria explained to SNA, that in all it can take over three months to get the final product onto the shelves and that some soaps take about one month just to cure and harden, using a mixture of various different oils.
Exotic Scents specializes in the production of soaps, massage oils and various other body care products. (Joe Laurence, Seychelles News Agency) Photo License: CC-BY
"It's a very long process. It's all handmade from start to finish, so even the tiniest designs, the curves you see in the soaps, they are all done by hand", Maria pointed out.
John explained that depending on the orders they receive, at times they could make up to 300 bars of soap a day. "We have hotels that buy our products as well", he added. 
Exotic Scents soaps is a popular tourist souvenir
Working from their small workshop in the Beau Vallon area, which also boasts of one of the most famous beaches of the Seychelles, Beau Vallon, popular with tourists and Seychellois alike, Maria and John do all the soap making themselves, while two young women help out with soap wrapping and cutting of stickers.
Initially the products were geared for the tourist market, which to date makes is mainly clientele from Europe, with their main purchase being the lavender scented soap bars, but the locals of the Indian Ocean islands have taken a liking to Exotic Scents as well.
Attractive looking soaps on display. (Joe Laurence, Seychelles News Agency) Photo License: CC-BY
With more local marketing anticipated in 2015, the couple wants to make Exotic Scents a household name and live up to their brand concept which is to stimulate basically all five senses of the body.
"When you look at it it's very visually pleasing, when you smell it has an effect, when you touch it each soap has a different texture, when you bathe with it you will see the bubbles. We've had some people actually who've said they've taken bites out of some of the soaps. But of course they are not made to eat. However, when I'm making the soaps I think of what I would like to eat. So I try to make it look as very appetizing," explained Maria. 
A passion for soaps, determination to make them
With no background in soap making, Maria and John enrolled in different courses overseas including acquiring skills for developing skin products.
"You are dealing with the skin and there are different skin types. So learning skin composition coupled with chemistry classes, is very important," said Maria.
"We spend a lot of time on designing, because our design is important to us and we always, every month or two, come out with a new product," they said.
Whilst customers can have products custom made for special occasions, prices range from SR 3.50 to SR 975 ($0.25 to 70 dollars), for a deluxe box which comprises a little of almost all the scents available. Orders can even be made online via Exotic scents Facebook page.
"Exotic Scents is present on Face book where people can actually place their order and later collect at the shop while shipment can be organized for our overseas customers," said Maria.
Challenges and surprises ahead in 2015
Among the many challenges, John and Maria explained to SNA, that they have seen a reduction in sales as a result in the drop in visitor arrivals from Europe, where most of their clientele comes from.
Rising costs in materials that are imported is also an issue, especially when businesses try to absorb the costs by keeping their products affordable.
While sales locally are limited due to the small population of 90,000, motivating the younger generation to work, does create difficulties as well.
"We are also now having people copying our work. That's a challenge. I mean we are not telling people not to make soap we welcome people in the sector that we are in but we are trying to encourage them to use their own imagination and make their own designs and not to copy our designs and presentation. They do everything exactly like ours so it kind of draws attention away from ours," explained Maria. 
Customers can have products custom made for special occasions. (Joe Laurence, Seychelles News Agency) Photo License: CC-BY
Despite all these challenges, Maria and John have many projects for Exotic Scents including a bigger workshop which will feature a Creole architecture style building, with specialized rooms for different soaps and where people can see the soap making process in full swing behind see through glass windows.
While all these can take a while to materialize Exotic Scents has a few surprises up its sleeve coming up soon in terms of a new line of products for the New Year.
"Natural candles made using natural waxes and coconut oil, bath balms and bath truffles, just to name a few. Afterall, we do not want to spoil the surprises," a smiling Maria concluded.
"We want people to come discover and take home the exotic scents of Seychelles. It's handmade and it's natural," John proudly added. 
SNA presents a series of photos of products from the Exotics Scents shop, showing a variety of their designs. (Joe Laurence, Seychelles News Agency) Photo License: CC-BY
Investment
» Be a reporter: Write and send your article
» Subscribe for news alert