A unique experience: Ethiopian Airlines brings B787 Dreamliner to Seychelles
Ethiopian Airline's Dreamliner flight to Seychelles - a one time experience for its customers. (Joe Laurence, Seychelles News Agency)
Send to Kindle
(Seychelles News Agency) - For the first time in its aviation history, the tiny Seychelles islands yesterday witnessed the landing of a Boeing 787 Dreamliner aircraft.
The flight from the Ethiopian capital, Addis Ababa, landed at the Seychelles International airport on the western coast of the Indian Ocean archipelago's main island of Mahé after 2:30 pm local time on Friday, with 133 passengers onboard.
Responding to SNA in an email, the airlines' area manager based in Seychelles, Meseret Tekalign, said they wanted their customers flying to the island nation to experience the unique features of the B787 aircraft.
"It is a one-time operation which is basically a publicity stand to send a message to people in Seychelles that Ethiopian Airlines is one of the largest and fastest growing airlines in Africa, both in fleet capability and revenue," she said.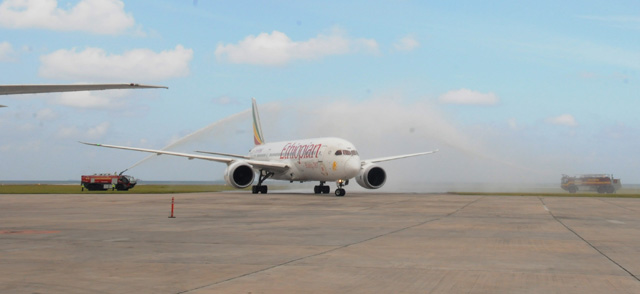 Ethiopian Airlines B787 aircraft with a 270 carrying capacity is welcomed by a traditional water canon salute at the Pointe Larue airport, Friday afternoon. (Louis Toussaint, Seychelles News Agency) Photo License: CC-BY
Ethiopian Airlines, which had operated three weekly flights to Seychelles from its hub in Addis Ababa for just over a year, before withdrawing on March 1, 2014 for profitability reasons resumed services to the Indian Ocean archipelago at the end of September last year.
According to Tekalign, the airline is doing better since the flights recommenced last year.
"We have a 65 percent load factor, and for the past week, we have even operated 767 aircraft with a load of our maximum passenger."
Ethiopian Airlines, which flies to Seychelles three times a week, has also been offering its international passengers - especially Chinese tourists - onward connections to the Seychelles main island of Mahé from Addis Ababa.
The airline's fleet of 78 aircraft includes 11 Dreamliners, which fly to 30 of the airlines' 84 international destinations across five continents.
The Seychelles national airline, Air Seychelles, announced that it had ordered two Dreamliner aircraft in 2006 with delivery scheduled for 2011, but the order was later cancelled.
Air Seychelles, established in 1977 was wholly owned by the Seychelles government until 2012 when the UAE's Etihad Airways bought a 40 percent share in the airline, investing $45 million in Air Seychelles. 
Tourism
» Be a reporter: Write and send your article
» Subscribe for news alert