Supportive through difficult times – Seychelles President thanks outgoing French Ambassador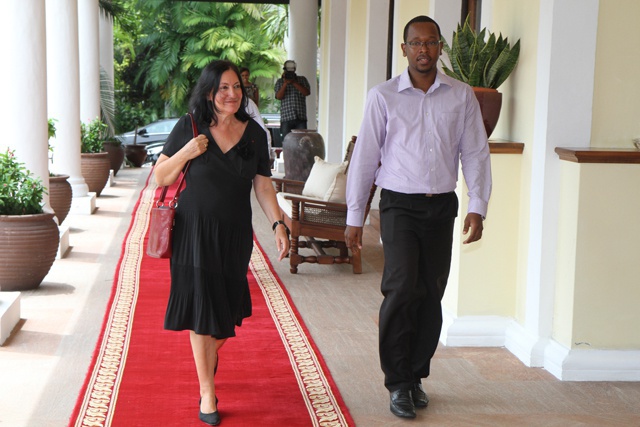 French Ambassador to Seychelles Geneviève Iancu arrives at State House to bid farewell to the President of Seychelles, James Michel (Mervyn Marie, Seychelles News Agency)
Send to Kindle
(Seychelles News Agency) - The President of the Seychelles, James Michel, has thanked the outgoing French Ambassador to Seychelles for building close relations between France and the Indian Ocean island nation during her time in office.
After just over two years at the helm of the Embassy of France in Seychelles, Ambassador Geneviève Iancu yesterday bid farewell to President Michel at State House in the nation's capital of Victoria, situated on the main island of Mahé.
In a statement released Tuesday evening, the president thanked Ambassador Iancu for the 'energy and intelligence' with which she exercised her mandate.
He cited examples of the tremendous support that France has given the Seychelles during difficult times, such as during the height of Somali piracy in the Indian Ocean and, most recently, supporting the Seychelles in negotiations with the Paris Club for the exchange of $30 million worth of debt for financing sustainable development and action against climate change.
For her part, Ambassador Iancu said that she was pleased to have played her part in consolidating relations between France and the Seychelles by organizing two meetings between President Michel and his French counterpart, Francois Hollande.
"We have a lot of economic relations, we have a lot of exchanges and we still would like to see more French companies coming to the Seychelles. I regret that although there is not a large number in the hotel and fisheries [sectors], we are present," said Iancu.
Ambassador Iancu is scheduled to depart Seychelles on her birthday, March 13.
Updated with correction- 2.52pm Seychelles time.
Diplomacy
» Be a reporter: Write and send your article
» Subscribe for news alert