Monetary rewards on the cards as Seychelles Special Olympics athletes bring home 11 medals from the LA games
Seychelles delegation from the Special Olympics World Games upon arrival at the airport on Wednesday morning. (Seychelles Nation)
Send to Kindle
(Seychelles News Agency) - Seychelles athletes have been promised monetary rewards following their remarkable achievement of winning 5 gold, 3 silver and 1 bronze medals at the Special Olympics World Games held in Los Angeles from July 25 to August 2.
Six out of the team of seven Seychellois athletes managed to win medals at the games which brought together almost 7 thousand athletes from around the globe.
Bernard Larue won 2 of the 5 gold medals competing in the 100-metre race and 4 kg shot put throw.
Margaret Quatre who won the 100-metre walk, Rosie Coralie who won the bocce singles event and Daniel Accouche who clinched first place in the 4 kg shot were the winners of the other 3 gold medals.
Accouche also won a silver medal in the 100-metre race while Alberto Joubert and Marie Jacqueline Rose won the other two silver in bocce singles events.
Rosie Coralie added the single bronze medal won by the Seychelles Special Olympic athletes to her collection as she came out third when paired with Marie Jacqueline Rose in the bocce doubles event.
It was the Indian Ocean archipelago's sports minister Vincent Meriton who announced that each gold medal brought in by the athletes is worth $770, each silver $462 and $308 for the bronze.
Meriton said this at the Seychelles international airport at Pointe Larue, Wednesday morning upon the return of the Seychelles delegation from the Los Angeles games.
"The Seychelles team from the 23rd Special Olympics have brought back a good harvest and I have come here [the Seychelles international airport] to welcome them…they have done us proud….we will meet all of them when the Seychelles athletes are back from the Indian Ocean Island Games to thank them and reward them," Meriton was quoted as saying in a report aired yesterday on the national television, the Seychelles Broadcasting Corporation, SBC.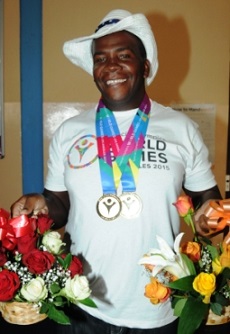 The four athletes that brought home the 5 gold medals. (Seychelles Nation ) Photo License: CC-BY-NC
The sports minister announced an increase in bonuses for medalists ahead of the departure of Seychelles 250 athletes to the 9th Indian Ocean Island Games being held in Reunion that in order to motivate the athletes to achieve good results.
Twenty-five thousand Seychelles rupees ($1,924) will be given to gold medalists compared to five thousand ($385) for the Games of 2011. Fifteen thousand ($1,155) and eight thousand ($616) will be allocated to silver and bronze respectively.
The Special Olympics World Games which are held every two years, alternate with Summer and Winter Games.
According to an article published in daily newspaper Seychelles Nation this morning Seychelles best result at a Special Olympics World Games was in Dublin, Ireland, in 2003 when the island nation brought home a total of 28 medals among which 12 gold, 7 silver and 9 bronze.
Sport
» Be a reporter: Write and send your article
» Subscribe for news alert