Prefab houses in the Seychelles islands – more options for an affordable home
Eco Villas' showroom at Anse a la Mouche, in the western district of Anse Boileau. A few companies are available locally offering people in Seychelles another option when building their dream home.
Send to Kindle
(Seychelles News Agency) - Most Seychellois islanders aspire to owning their own home, somewhere on the coast or the mountainside of one of the inhabited islands of the Indian Ocean archipelago.
With the high cost that comes with building standard 2 to 3 bedroom concrete houses in the country, which can cost between $650 per square metre up to the more expensive $1,071 per square metre, people are looking at cheaper options. 
One of these options is prefabricated houses that are manufactured off-site to be easily shipped and assembled, which are now becoming much more available for Seychellois buyers.
These types of houses have been around in Seychelles for a long time and some examples are those seen at Greenwich, in the central district of Mont Buxton which are made of wooden frames from Malaysia.
Locally set up businesses tapping into the prefab market
Eco Villas Ltd Seychelles and Union Roofing are two of a handful of local companies that are now offering prefab houses and SNA met with the chief executives of these two companies, Italian born Andrea Colucci of Eco Villas and Seychellois entrepreneur Richard Ernestine with Union Roofing.
Colucci launched Eco Villas, which specialises in assembling wooden prefab homes after visiting Seychelles over eight years ago. He noted that while moving around the island, he could not help but notice the quality of current construction, the level of finishing on the houses and the type of materials that was being used.
"I started to think that prefab houses could be a good product for Seychelles," said Colucci.
He stated however that setting up the business was not an easy task.
Italian born Andrea Colucci says it is only in the past three and a half years that he has been delivering prefab houses to clients since starting the business in Seychelles in 2008. (Eco Villas) Photo License: All Rights Reserved
"It was not easy in the beginning because it's a new concept, people have the wrong idea about wooden house and this kind of system [prefab]," he told SNA during the interview at his showroom at Anse a la Mouche, in the western district of Anse Boileau.
Before moving to Seychelles in 2008, Colucci was already working with an Italian prefab house factory. Today he is partnering with the various factories to provide him with the wooden prefabricated houses imported and built in Seychelles.
Over the last seven years since Colucci started his business, it is only in the past three and a half years that he has been delivering houses to clients. 
Ernestine from Union Roofing on the other hand is new in the business although he has been planning his project for the last five years.
"Demand wise, I'm getting a lot of inquiries. At the moment I'm building a display home at Port Glaud. The display home is supposed to be finished in a month's time, after which I will be inviting people to come and see what they will be buying. That will be my show house," explains Ernestine.
Building a concrete house in Seychelles can be a slow process, taking several months to a few years to complete depending on availability of materials and reliability of workers. In comparison the prefab method is faster, taking up to 3 week to hand in the house.
Furthermore, prefab material is not only cheaper and faster but has a lot of other benefits; it is ecological, eco-friendly and health friendly.
Some of the models of prefab houses being offered by Eco Villas. (Eco Villas) Photo License: All Rights Reserved
The materials used today for prefab houses  
Eco Villas uses white Romanian or Estonian pine, selected from natural forest and according to Colucci for every tree that is chopped down, a new one is replanted. This wood then goes through a natural drying process, under strict temperature and humidity control. The whole drying process takes over 9 months to complete before the wood is ready for construction.
"The most important thing with this process is that the wood is full of resin. Resin is a natural protection against termites and this is important in Seychelles because the level of humidity is quite high most of the time," explains Colucci.
Unfortunately Colucci does not plan to introduce local wood in his construction as the house arrives as a kit, with every section readily cut to measurement. To use local wood will mean having a local prefab factory. Moreover he pointed out that local wood is usually expensive.
Union Roofing does not use wood but something similar to plywood used in construction which is called press-board and this is imported from China.
The whole frame work is galvanized light steel with fibreglass insulation in between the panels. The outside panels are like cladding; the steel and foam together like a sandwich panel. For the inside there is a choice of the same sort of panels or just plasterboards while outside looks like what is called timber lap. When the house is completed it can be painted like any concrete house.
The different components of a prefab house being offered by Union Roofing owned by a Seychellois entrepreneur that is launching in the business after studying the market over the last five years. (Union Roofing) Photo License: All Rights Reserved 
The cost for prefab houses
Apart from the private companies, the Seychelles government is also building prefab houses as part of its housing project. According to the record of the ministry of land use and habitat, there are 147 prefab units at the Ile Perseverance, a reclaimed island near Mahe, where the country has the largest social housing project. The houses cost 621 US dollars per square metre.
Union Roofing charges a cost of 541 US dollars per square metre for standard house. Eco Villa for a starting price can provide a 2 to 3 bedroom standard house at cost of 50,000 US Dollars.
Both companies can provide extras for additional costs and the price will be higher depending on the level of details the client would like to see in the final product. They also do extensions on existing house.
Colucci says the houses last a lifetime. "In Europe, the factory with which I am partnered with, have been making houses for 50 years and the very first house they built is still there," he added.
To assemble the houses, workers are flown to Seychelles from the factory and if needed Colucci seeks Seychellois manpower to complete the job.
The company's most recent project was completed in 21 days and was to build 3 units, a pool with decking, and a gazebo on l'Islette Island, the western district of Port Glaud for the Russian reality 'Dom 2'.
One of the completed prefab units on l'Islette Island, in the western district of Port Glaud. Photo License: All Rights Reserved 
Talking about future plans, Colucci wishes to be able to work on a big tourism related project. "I hope that the L'Ilette project will work as a business card," expressed Colucci.
Ernestine is right now focusing on building his show house which will then be opened to the public. This will be through what he will call 'open house.'  
Seychelles housing undergoes transformation
With the presence of a few local prefab companies in Seychelles some people are opting to try it out.
Lidie a young first time homeowner is currently in the process of accessing a loan to build her 3 bedroom home.
"According to research its more durable and cheaper to build. I am looking at spending around $54,000 for a prefab house compare to over $76,000 if I was to build a concrete house," she told SNA.
While some people are developing an interest in such an option, the fact remains that concrete houses in the Seychelles islands have for many years been in the foreground in the construction industry of the country.
In fact to such a large extent that the islands nation's population and housing census of 2010  says that out of the 23,770 houses 86 percent (20,347) is made of stone or concrete blocks compared to 14 percent (3,414) made of wood or corrugated iron. 
This is a huge turn around for the country from 1971 when 60 percent of dwelling houses were made of wood and less than one third of all houses were made of stone or block.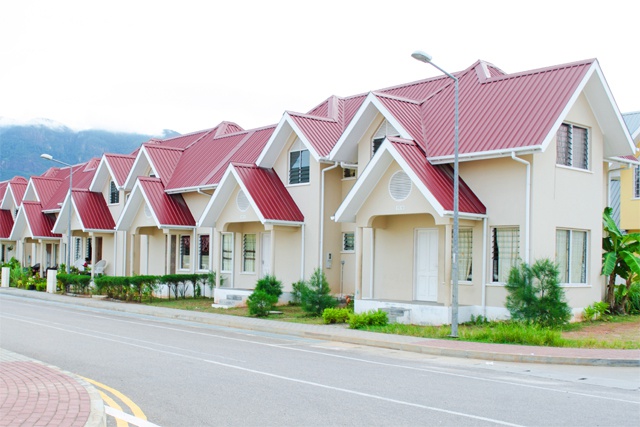 Some completed houses at Ile Perseverance, the largest social housing project undertaken by the Seychelles government on a reclaimed island next to the main island of Mahe. Concrete houses is one of the preferred choice among the Seychellois population. (Glenn Pillay, Seychelles News Agency)
"I chose concrete between it is more reliable and lasts a lifetime. Having a family I cannot afford to be doing maintenance regularly on my home," one Seychellois home owner, Sarah told SNA.
The same feeling was shared by James who works a lot with people building a new house.
"I have noticed throughout the years that people go for houses using materials they are more familiar with and the prefab companies are still fairly new."
James also said that for new home owners want a house that is structurally safe and so far they see concrete houses as being the ideal choice.
Investment
» Be a reporter: Write and send your article
» Subscribe for news alert