New Ethiopian ambassador is accredited to Seychelles, eyes increase in tourism and trade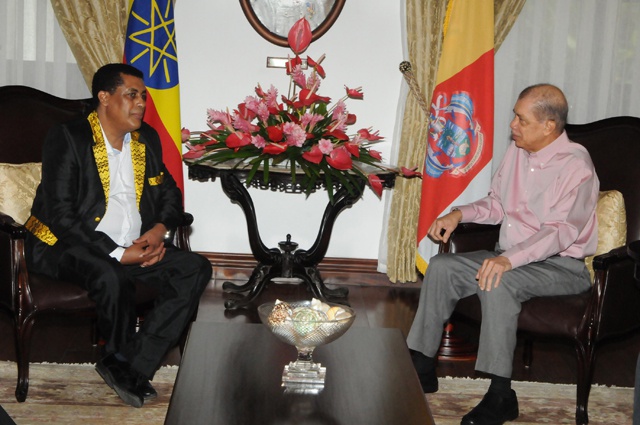 Ambassador Dina Mufti Sid discussing with President James Michel at State House on Tuesday. (Louis Toussaint, Seychelles News Agency)
Send to Kindle
(Seychelles News Agency) - Relations between Seychelles and Ethiopia are excellent, but can still be brought to a higher level, said the newly accredited Ethiopian ambassador.
Dina Mufti Sid presented his credentials to the Seychelles President James Michel on Tuesday.
Speaking to journalists at State House, Ambassador Sid noted that the two countries are already supporting each other on issues of peace and security in Africa and that there are collaboration in various fields.
He highlighted aviation as one area where there are excellent ties. Ethiopian Airlines resumed flights to the island nation in September 2014 after a temporary halt.
Nevertheless Ambassador Sid is targeting tourism, trade and investment as priority areas to be tackled during his mandate in order to step up relations between the two sides.
"We can cooperate in the area of tourism mainly because you have a very good experience here," said Sid.
On the issue of trade, the diplomat said that there are investment possibilities for Seychellois in Ethiopia and vice versa.
"There is a huge market in Ethiopia as a country of nearly 90 million people," he added.
Seychelles and Ethiopia established diplomatic ties in 1982.
Ambassador Dina Mufti Sid, the fourth Ethiopian ambassador to Seychelles, will be serving a four-year mandate.
He is based in Nairobi, Kenya.
Diplomacy
» Be a reporter: Write and send your article
» Subscribe for news alert