6 marine parks in Seychelles where sea life is a protected asset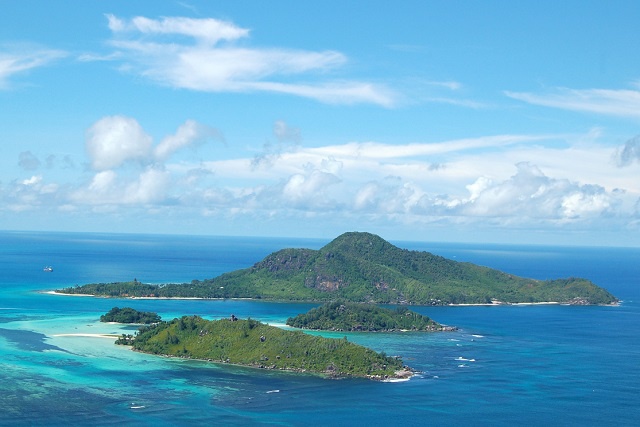 (Gerard Larose)
Send to Kindle
(Seychelles News Agency) - With its natural environment, turquoise coloured-waters and pristine beaches, Seychelles is a tropical paradise for visitors. And especially so for those interested in the marine life.
Seen as a storehouse for marine biodiversity, Seychelles is also part of one of Conservation International's designated hotspots in the Indian Ocean. The marine biodiversity is the basis for two economic sectors – tourism and fisheries -- which is why significant measures have been taken to protect the underwater environment. Below are details on six beautiful marine national parks in the island nation:
1. Ste Anne
Around 20 minutes by boat from the main island, Mahe, Ste Anne is one of the most well known natural destinations. It was declared a marine park in 1973, the first in the western Indian Ocean. 
The park encompasses six small islands, among which two – Cerf and Moyenne -- are accessible to day trippers. The other four are Ste Anne, Long, Cachée and Round.
The dividing channels between the islands are filled with coral reefs and meadows of sea grass.
http://www.lonelyplanet.com/seychelles/ste-anne-marine-national-park/introduction
http://trekity.com/sainte-anne-marine-national-park-seychelles/
(Seychelles News Agency) Photo License: CC-BY
2. Baie Ternay
Found in the northwest of Mahe, it became a national park in 1979.  The park stretches over a distance of 2.5 kilometres and protects the inside of the bay with thriving underwater scenery. It is accessible by boat.
It has a beautiful coral diversity surrounded by hundreds of brightly coloured reef fish, plus it's a great place to see hawksbill and green turtles. With its calm waters, the park is popular with snorkelers and scuba divers.
http://gviseychelles.blogspot.com/2011/04/19042011-baie-ternay.html
https://www.tripadvisor.com/Attraction_Review-g297798-d2641838-Reviews-Baie_Ternay_Marine_National_Park-Mahe_Island.html
(Gerard Larose, Seychelles Tourism Board) Photo License: CC-BY
3. Curieuse
Only two kilometres off the north coast of Praslin, the second-most populated island, the shallow waters of the park host a large population of humphead parrotfish.
It was designated a marine national park in 1979 to protect is natural beauty and ecological important marine life. It is also a protected area for turtles with one of the important hawksbill nesting populations.
The island is open to visitors and visits can be done through to tour agents or privately owned or rented boats.
http://www.seychelles.org/inner-islands/curieuse-island-marine-national-park
http://www.seaturtle.org/mtn/archives/mtn147/mtn147-4.shtml
https://richedwardsimagery.wordpress.com/2015/03/08/curieuse-marine-national-park-seychelles/
(Seychelles News Agency) Photo License: CC-BY
4. Port Launay
This park, designated in 1979, runs parallel to the beach, from Anse des Anglais in the south to Cap Matoupa in the north.
Located in the northwest of Mahe, it is well known for its beautiful beaches and whale sharks. The reef on both sides of the bay creates a perfect spot for snorkelers.
http://www.seychellesnewsagency.com/articles/703/Treasure+of+natural+heritage-+Celebrating++years+of+national+parks+in+Seychelles
(Seychelles Nation) Photo License: CC-BY-NC
5. Silhouette
Lying 12 kilometres north of Mahe, the island is surrounded by the finest marine life. It hosts a population of hawksbill turtles.
The surrounding waters were declared a marine national park in 1987. It is the largest among the six marine national parks at around 30.45 square kilometres.
The island is reachable by a 30-minute boat trip or 15 minutes on a helicopter transfer from Mahe.
http://www.idc.sc/index.php/Silhouette-Island/flora-fauna.html
(Seychelles News Agency) Photo License: CC-BY
6. Ile Coco
The last one to become a marine national park – in 1997 -- it is located 7 kilometres north of La Digue.
It is set around three small islets in shallow waters surrounded by a coral reef.
The park is a spectacular spot for snorkelling and diving with popular daily trips from La Digue and Praslin.
Visit to the island is done during the day and can be organised through tour or boat operators.
http://www.seychelles.travel/en/seychelles-products/ile-cocos-marine-national-park
Seychelles Buzz
» Be a reporter: Write and send your article
» Subscribe for news alert