Seychelles' president highlights good governance, transparency, accountability in address
President Danny Faure spoke to the National Assembly for the first time since he took office on Sunday. (Rassin Vannier Seychelles News Agency)
Send to Kindle
(Seychelles News Agency) - Seychelles' President Danny Faure told the National Assembly on Tuesday that he will put more emphasis on good governance, transparency and accountability throughout his mandate. 
Faure spoke to the Assembly for the first time since he took office on Sunday, as the fourth president of Seychelles, an 115-island archipelago in the western Indian Ocean.
"The government will continue to put the Seychellois people at the centre of its development programme and will accelerate the implementation of our programme more vigorously," said Faure.
The President added that: "This necessitated a change in the structure of our administration, changes in some policies and procedures, and the way we work."
Faure gave details on his plan of work two days after his inauguration. He succeeds President James Michel, who resigned only ten months into his third and final mandate. 
To ensure that the government attains its objectives, the President said, "Laws of existing structures will be amended to reflect good governance, transparency and accountability."
Faure said he believes in a society that is fair, united, prosperous and more humane and to attain such a society "values such as justice, equality in opportunities and re-distribution of wealth should govern our work, and these principles will govern my work as president." 
President Faure announced new changes and necessary amendments will be submitted to the National Assembly for approval. (Rassin Vannier Seychelles News Agency)  Photo License: CC-BY
The president's new administration:
The office of the president oversees the cabinet of ministers, the Department of Finance, Department of Legal Affairs and the Department of Public Administration.
The office of the Vice President will oversee the Department of Information, Department of the Blue Economy, Department of Investment and Industry, Department of Information, Communications and Technology (ICT), Department of Risk and Disaster Management until it becomes an autonomous organisation. The Vice President's office will also be in charge of Civil Society and all issues related to religious denominations and also inner and outer islands.
The 12 ministries in the President's new cabinet
Ministry of Health and Social Affairs, Ministry of Education and Human Resources Development, Ministry of Youth, Sports and Culture, Ministry of Tourism, Civil Aviation, Ports and Marine, Ministry of Agriculture and Fisheries, Ministry of Environment, Energy and Climate Change, Ministry of Habitat, Infrastructure and Land Transport, Ministry of Internal Affairs, Ministry of Local Government, Ministry of Foreign Affairs, Ministry of Finance, Trade and Economic Planning, Ministry of Employment, Entrepreneurship Development and Business Innovation.
The names of the new Vice-President and Ministers were not announced.
"I am restructuring the government's administration to ensure better service delivery, one that is efficient and where we can raise the level of performance in all ministries, departments and agencies," said the President.
The changes will include the appointment of board members for public enterprise and agencies "to bring more transparency and give more professionals a chance to sit on these boards".
These will come will come into force in January 2017, and necessary amendments will be presented to the National Assembly.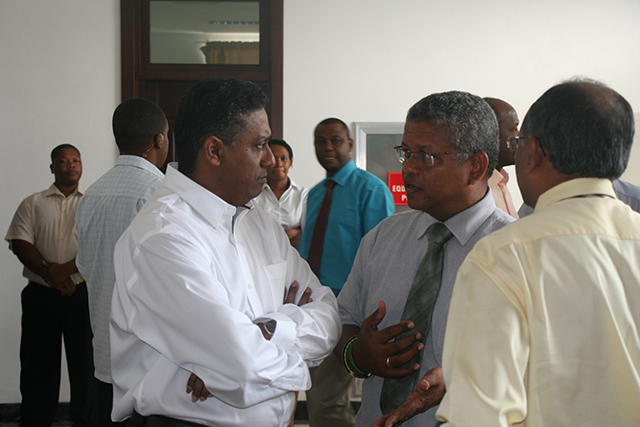 Members of the National Assembly will give their reactions to the President's address on Thursday. (Rassin Vannier Seychelles News Agency)  Photo License: CC-BY
Chairpersons of Boards and chief executives of public enterprises and agencies will have to present their annual audit report to the Finance and Public Accounts Committee of the National Assembly.
Ministers will no longer be appointed as chair of the board or a member of a public enterprise or agencies, and Principal Secretaries will not be appointed as chair or board member of any public enterprise or agencies under his or her ministry.
However, Faure said Principal Secretaries will be able to sit on a board not related to their ministry.
A new Code of Conduct will become effective January 2017 that will prevent chief executives in the public service from sitting on any executive committees of political parties. Faure said public officers are free to associate with any political parties and will have to do this outside working hours. Government's resources will not be used to carry out any political activities.
The President announced a new bill to set up an independent public service commission that will look into the welfare of public officers.
The President said his government will have zero tolerance for corruption and victimisation and security clearance will be based solely on criminal records.
He also announced that a comprehensive law on access to information will be presented to the National Assembly for approval in six months.
Faure added that social issues such as housing, drug abuse, poverty will also be addressed by his government.
He also said that amendment will be made to the Public Officers Ethics Act so that politicians and ministers will have to declare all their assets publicly.
Members of the National Assembly will give their reactions on Thursday.
Politics
» Be a reporter: Write and send your article
» Subscribe for news alert