Miss Seychelles beauty pageant contestants to be revealed end of April
Line up of contestants of 2016 Miss Seychelles Another World beauty pageant. (Patrick Joubert, Seychelles News Agency) 
Send to Kindle
(Seychelles News Agency) - The contestants of the upcoming Miss Seychelles Another World beauty pageant have until April 25 to register for the event, said the head of the Creative Industries and National Events Agency, CINEA.
Gaelen Bresson made the announcement at a press conference last week in which the winner of the bid to organize the pageant was revealed.
Bresson said the contestants will be presented the end of April after the pre-selections.
The chief executive also announced that Terry Carolla of Telly's Modelling Agency was the successful bidder for Miss Seychelles Another World, which will take place on Saturday July 29.
"We advertised for prospective tenders for the organisation of this year's pageant and for the first meeting six entities turned up, but on the closing date for the tenders, only two companies submitted their final documents and from these two Terry Carolla submitted a full and completed concept."
Carolla is not new to beauty scene -- apart from owning Telly's Modelling Agency he has in the past been involved with the organisation of beauty pageants such as the 'Miss Creole Des Iles International' which takes place in October as part of the activities for the 'Festival Kreol.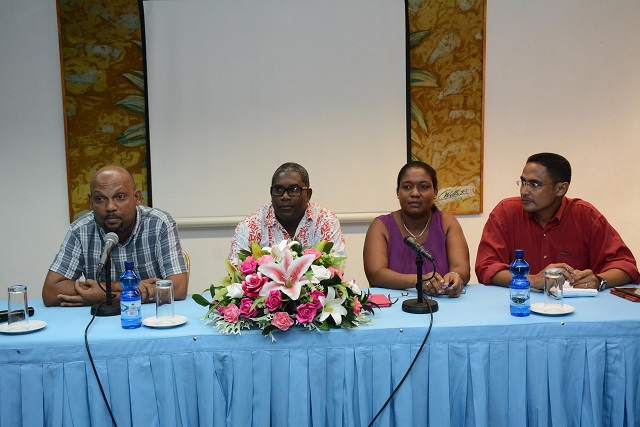 CINEA officials announced Terry Carolla as the organiser of this year's pageant. (Joena Bonnelame, Seychelles News Agency) Photo License: CC-BY
"This year there will be a difference in the show,  which will have a more participatory aspect. In the rehearsals, there will be new elements showcasing the Creole way of life and the beauty of the Seychellois people. It will also cover our culture, music, dance and cuisine," said Carolla.
He added that: "On the day of the pageant, the actual catwalk and the answering of the judges questioning will only be a minor component for judging. The show will be full of creativity which will culminate into crowning of the pearl of Seychelles, the new Miss Seychelles Another World."
CINEA also confirmed that in this year's edition, a consultant will be developing projects on behalf of the contestants -- these are expected to be realistic and achievable during the tenure of Miss Seychelles 2017. CINEA hopes that the winner will have a feasible project to present at Miss World.
Designers in Seychelles, a group of 115 islands in the western Indian Ocean, are being invited to sponsor the contestants as this will be a chance to showcase their creations and give value to locally made attires and jewellery.
General
» Be a reporter: Write and send your article
» Subscribe for news alert