High jumper Labiche gives Seychelles second gold at the Francophone games in Ivory Coast
This was the first gold medal for Labiche in the Jeux de la Francophonie. (Lissa Labiche, Facebook)
Send to Kindle
(Seychelles News Agency) - High jump athlete Lissa Labiche gave Seychelles its second gold medal at the Jeux de la Francophonie on Wednesday.
Labiche soared to 1.91 metres to win the gold medal. It was her best result this season.
"I am really happy with this result, and it means a lot to me. It is my first gold medal in this competition," Labiche told SNA via telephone.
This is Seychelles' second gold at the games, which started on Friday and ends this Sunday, July 30. On Monday, Dylan Sicobo got the island nation's first gold, in the 100-metre final, setting a new national record in the process.
Labiche said her closest rival in the competition was Claire Orcel of Belgium who came out second at 1.81 metres.
The 24-year-old found her performance more than satisfactory as she had not had much preparation for the Games.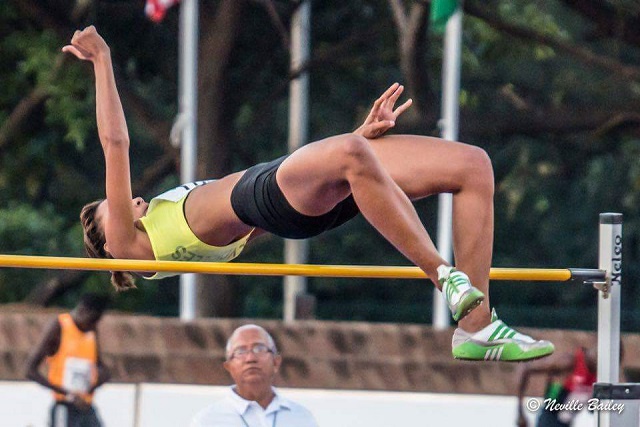 Labiche soared to 1.91 metres to win the gold medal, her best result this season.(Neville Bailey) Photo License: All Rights Reserved
"I had not really prepared as I was nursing an injury since last year and it has been difficult to get back to my previous form," said Labiche.
Her mark of1.91 metres is just below Labiche's best performance so far -- 1.92 metres -- which is also a national record, established in the South African Open Championship in May 2015.  In the Olympic Games in Brazil in August last year, Labiche only managed 1.85 metres.
Labiche told SNA next on her target is the Commonwealth Games which will take place next year on the Gold Coast in Queensland, Australia from April 4-15.
Another participant from Seychelles, a group of 115 islands in the western Indian Ocean, at the 8th edition of the Jeux de la Francophonie, Isham Rath, is in the final of the song competition.
Created in 1989, the Francophone Games take place every four years. Competitors and performers between the ages of 18 to 35 from French speaking nations compete and display their talent with more than 3,000 participants in the areas of art, culture and sport.
Sport
» Be a reporter: Write and send your article
» Subscribe for news alert