Seychelles sports fishing tournament attracts tourists from Russia and Dubai
Competitor with his catch on Saturday (Joe Laurence, Seychelles News Agency) 
Send to Kindle
(Seychelles News Agency) - The Seychelles Sports Fishing Club (SSFC) is satisfied with the turn out and outcome of the 2014 Heineken Slam and the first Billfish Release challenge SSFC Secretary Grant Heyer commented at the end of the tournaments this weekend.
"…especially with the fact that tourists are coming in from overseas especially to participate in our competition," he told SNA.
Sofia Zigangiriva a Russian national who formed part of the 'Blue Lady' team along with her partner who is from Dubai, their two sons and also her mother told SNA that it was really challenging on the rough sea and that they nearly gave up during the early morning due to the bad weather.
The anglers who set out to sea at midnight last Saturday for a fishing adventure were a mix of both Seychellois and foreigners who had come to the Indian Ocean island especially for the event and it's a team comprising of a foreign couple together with their young sons who emerged as the winner of the Heineken Slam.
Team Blue Lady winner of Heineken Slam 2014 (Joe Laurence, Seychelles News Agency) Photo License:CC-BY
"Even if it was tough, at least we can now go home with our bags full, and we are all very happy," said Sofia.
'Blue Lady' managed to accumulate 570.94 points to emerge as the overall winner of the fourth Heineken Slam.
Ten boats - Alaaki', 'Blue Lady', 'Dundee 2', 'Kuki', 'Island Star', 'Mimi 2', 'Paola', 'Steam Cat', 'YeboGogo' and 'Special Cabo' set sail at midnight on Saturday June 28, taking part in this year's Heineken Slam.
 A 17 hour battle to get the 3 fish species
The ten teams had 17 hours to battle for the coveted Slam which consists of catching a wahoo, yellowfin tuna and dorado.
It was not going to be an easy ride sailing South East of Seychelles main island of Mahé now that the South East trade winds has kicked in.
By 4.00pm local time on Saturday sports fishing enthusiasts had started to gather at the Marine Charter, where the ten boats were to come in with their catch latest 5.00pm.
Nine teams met the deadline except for the team onboard 'Special Cabo' who did not get back in time and was therefore disqualified.
For the Dorado category, it was 'Blue Lady' who came out as the only winner with its dorado weighing 5.52kg.
'Kuki came in with the heaviest Wahoo weighing 14.52kg while Blue Lady grabbed another prize with its heaviest yellowfin tuna weighing 39.18kg.
As the overall winner, Team 'Blue Lady' took home the Star prize, a White gold - fish pendant sponsored by 'Jouel', the Indian Ocean retail brand of Caratco - the largest diamond retail and wholesale company in South Africa, alongside other prizes including Heineken sports pack and the unique gift of their own coco de mer, the biggest seed in the world, which is endemic to the Seychelles islands of Praslin and Curieuse.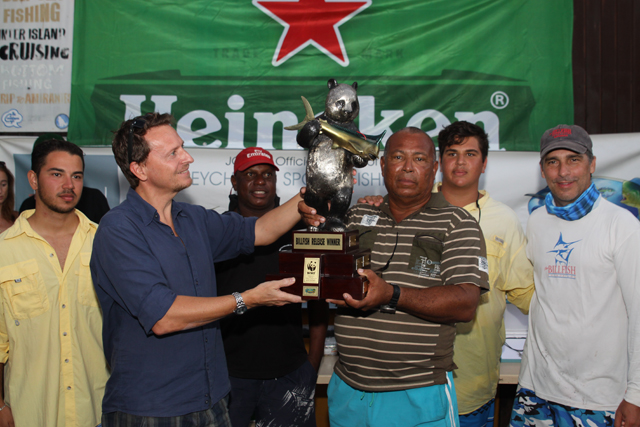 Team members of Mimi 2 with their Billfish Release challenge trophy (Joe Laurence, Seychelles News Agency) Photo License:CC-BY
Overall Runner up for the Heineken slam was 'Kuki' with 93.66 points while Team Island Star was in third place with 86.06 points.
Team Island Star led by Captain Marc Houareau had won the first two fishing competitions this year the Marlin Slam tournament in January with their heaviest blue marlin that weighed 212 kilogrammes and the Seychelles National Fishing Tournament in April.
Billfish Release challenge backed by World Wide Fund for Nature
The 2014 Heineken Slam was a milestone for SSFC as it teamed up with World Wide Fund for Nature (WWF) to have a Billfish Release challenge.
Only one boat though, 'Mimi 2', was able to tag and release a Sailfish to win the Billfsh release challenge.
To qualify to be the Billfish Release Winner, the teams had to "tag and release" all billfish (such as blue marlins, sailfish and swordfish) caught in the tournament and present a video of the tag and release for verification to capture their points.
At the end of Saturday's competition the sports fishing enthusiasts took home their precious catch which they shared with friends and families while they look forward to the next competition on SSFC's calendar in just a little over a month.
"We have about 5 weeks and then we are back in the water…..Saturday, August 9, 2014 is the Southeast Monsoon Sailfish Tournament and we will have to deal with the Southeast Monsoon," said Grant Heyer, SSFC's Secretary.
The Indian Ocean archipelago is known to have one of the richest big game fishing grounds in the world. 
Team Mimi II - Sailfish tagged (TBF Tag) during the SSFC Heineken Slam and SSFC/WWF Billfish Release Challenge. Winner of the SSFC/WWF Billfish Release Challenge (Nicholas Adam/YouTube Video on Facebook)
Sport
» Be a reporter: Write and send your article
» Subscribe for news alert