Maritime safety to be increased during Feast of the Assumption in Seychelles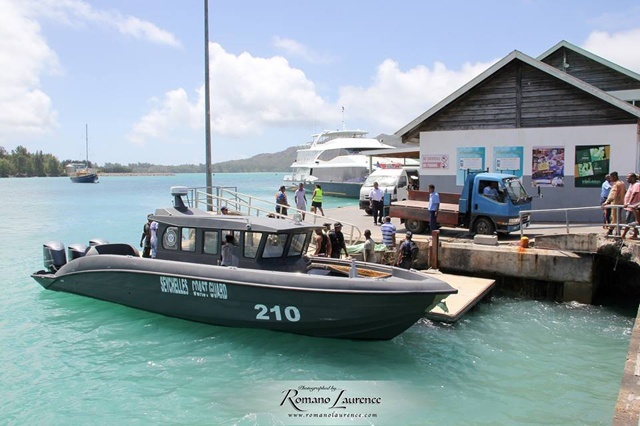 The Seychelles Maritime Safety Administration, coast guard, police and port authority will be patrolling and ensuring security at sea during the religious holiday. (Romano Laurence)
Send to Kindle
(Seychelles News Agency) - Authorities in Seychelles will increase security measures at sea for the Feast of the Assumption of Mary taking place on the third most populated island of La Digue on August 15.
The increased security comes after a boat accident during the festival two years ago killed three people. 
Hundreds of people from Mahe and Praslin will be converging on La Digue to celebrate the Feast of the Assumption of Mary, the Patron Saint of the island on August 15. The event is usually packed with activities.
The director general of the Seychelles Maritime Safety Administration (SMSA), Joachim Valmont, said that measures will be put in place to prevent boating accidents during the festivity.
In 2016, three people died when a boat carrying six passengers capsized and sank while travelling from La Digue to Praslin, the second most populated island.
Valmont told SNA on Thursday that there will be three main checkpoints operating on a 24-hour basis from August 14 to 20.
One checkpoint will be located in the vicinity of Ste Anne Island for vessels leaving Mahe. Another one at Baie Ste Anne for vessels departing Baie Ste Anne and Cote D'or Praslin and one between Praslin and La Digue for vessels departing Baie Ste Anne and La Digue jetties.
"The officers will be checking important necessary details and equipment on every vessel travelling to La Digue on that day. These include the number of passengers and the carrying capacity of the boat and if there are first aid kit and enough life jackets for each passenger," said Valmont.
Additionally, the Seychelles Maritime Safety Administration, coast guard, police and port authority will be patrolling and ensuring security at sea during the religious holiday.
Valmont added that if boat operators are seen breaching the safety regulation and requirements they will be taken to task and asked to return to their point of departure.
A boat owner who is planning on attending the event, Darren Esther, said that safety is first and it is definitely appropriate if the authorities put in place strict measures to stop any accident from happening.
"In fact, all checks should be done on every boat before departure and we should not wait for a major event to continuously check on boats for safety," said Esther.
The Seychelles Maritime Safety Administration is requesting all vessels to refrain from berthing and remaining alongside La Digue and Praslin jetties and to take directives from the respective pier masters. There will be also limited access to vehicular traffic on both jetties.
All boat operators are asked to follow existing regulations by informing the port of their departure, the expected time of return and the number of passengers they have on board. This will help relevant authorities better manage and control travel between the islands.
The feast -- popularly known as Lafet La Digue -- usually starts with a religious procession which begins at the grotto and ends at the church of St Mary for the mass. This is followed by various entertainment and sports activities. 
General
» Be a reporter: Write and send your article
» Subscribe for news alert