Seychelles centenarian feat spreads to second most populated island of Praslin
Francine Joubert is amongst the lucky few who have lived to celebrate 100 years on Seychelles second most populated island of Praslin in recent years (Seychelles News Agency ) 
Send to Kindle
(Seychelles News Agency) - Seychelles' second most populated island of Praslin with a population of over five thousand inhabitants, has not had so many of its elderly living long enough to become centenarians in recent years.
Last year, the late Josephine Louis, of Baie Ste Anne, one of the two districts on Praslin, celebrated her 100th birthday before passing away while the second district of the Island, Grand Anse Praslin, with over three thousand inhabitants, has not been so lucky; the closest it came to a having a centenarian was in 2010, when 97 candles were blown out.
Things changed on Saturday as the district's authorities, church representatives, families and friends hosted one of its residents Francine Joubert - born Victor, to a garden birthday party on the occasion of her 100th birthday.
The white-haired and soft spoken elderly lady who was born on the July 12 1914, showed everyone present that she was still going strong by cutting her birthday cake on her own and raising her glass to them.
Francine Joubert is a widow and has never had any children.
'I am like a fallen leaf. I have no mother, no father, no sisters, no brothers, no siblings. But I thank the God for the years I have been given,' she told her guests.
Questioned by SNA about if she wished to live to blow out more candles Joubert replied, "God knows if I will live to be 100 years only. But if he keeps me here I will be happy.'
Joubert who is commonly known as 'Marenn' the creole name for Godmother, is well known for her stories on the history of her district, Grand Anse Praslin. She is also one of the pillars of the Mother's Union, an organisation for women in the Anglican Church, of which she has been a member since she was in her twenties.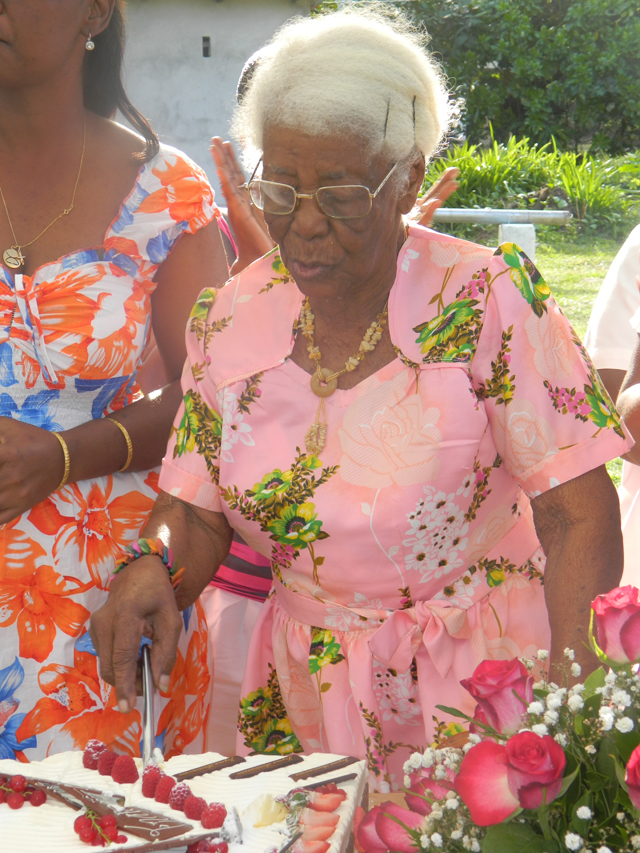 Francine Joubert proudly cutting her birthday cake on the occasion of her 100th birthday (Seychelles News Agency ) Photo License: CC-BY
Auguste Pool, whose mother had been baptised Francine was amongst families and friends who joined her to share the joyous occasion.
"Even though our mother has passed away at the age of 71 since 2003, we have always remembered her godmother. Together with my brothers and sisters, we feel it is our duty to continue to look out for her godmother.'
Despite not having her own children, Joubert has raised several adopted children, including her niece, Mary Cany, who was amongst the proudest at the short ceremony.
"We are so please that she is still with us. Our children and grand-children have been raised by her."
Cany, who lives close to the elderly woman confirms that Joubert still does everything by herself, including cleaning, cooking and washing. She also sweeps her own yard although she is now starting to use a cane for support.
Despite being proud and happy to see the woman who raised her living to be a centenarian when asked if she would have wanted to live that long, Cany shook her head saying; "No. It's hard living that long. Sometimes she forgets things and that is hard for her. We spend hours today trying to find her shoes, she had left them somewhere and had forgotten where they were. I would not want to live that long."
By turning 100 years old Francine Joubert is amongst the luckiest of the Grand Anse Praslin citizen to live for so long.
The oldest man on the island is seven years younger than her.
Despite Praslin having only one living centenarian so far, Seychelles has recently witnessed an increase in the number of its oldest citizens living for a hundred years and more.
There are currently 9 centenarian women still alive in the Indian Ocean archipelago of around 90, 000 people. Most of them live on the main Seychelles island of Mahé.
One of the oldest Mary Astova Pilate from Bel Air central district of Mahé is in fact celebrating her 105th birthday today.
Currently there is only one Seychellois male centenarian after two others passed away earlier this year.
Bertie Edouard Mahoune of Plaisance, a district on the outskirts of the capital of Victoria turned 100 years old on May 21, 2014.
According to latest figures available on the Seychelles National Bureau of Statistics website dated to 2013, life expectancy amongst the islanders for both male and female is 74.2 years old.
The data also shows the tendency that Seychellois women tend to live longer than men with the life expectancy for female being 79.5 years and for male 69.3 years.
General
» Be a reporter: Write and send your article
» Subscribe for news alert