Bodybuilding: up-and-coming star Mervin Dugasse wins Seychelles title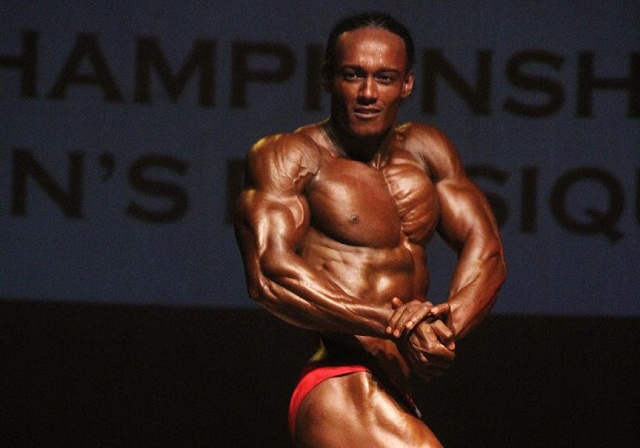 In fine form: Mervin Dugasse surprised everyone this year with his development (Patrick Joubert, Seychelles News Agency)
Send to Kindle
The absence of some of Seychelles' favourite bodybuilders at the island's National Bodybuilding Championships last weekend had threatened to rob the competition of the excitement usually expected when the likes of Ziad Meckdachi and Rodney Henriette cross swords in domestic competitions.
Currently, the two are considered the country's top bodybuilders, being the top three finishers at last year's Mr Seychelles event held in November. However, due to other commitments, none of the favourites were present to compete for this year's title, won previously in June 2014 by Ziad Mekdachi.
Mekdachi is currently preparing to compete in this year's Arnold Classic Europe bodybuilding competition being held this September in Spain, and Henriette is preparing to defend his upcoming Mr Regatta title.
Another favourite, Fabien Antat, who placed third at last year's Mr Seychelles competition, is reported to have dropped off the bodybuilding circuit this year.
For this reason it was generally expected that in their absence the national championship would lack both flair and talent, right until up-and-coming bodybuilder Mervin Dugasse walked onto the stage and wowed the crowd with his excellent form.
One of only four bodybuilders to contest the event, Dugasse's well-defined muscular features completely took the crowd by surprise.
They wound up chanting his name by the end of the night when only one outcome was expected - a first national bodybuilding title for the 34-year-old newcomer.
Dugasse strikes a bodybuilding pose on stage (Patrick Joubert, Seychelles News Agency) Photo License: CC-BY
The athlete had come a long way from the bodybuilder who competed in the men's physique competition last year, meant for beginners, and he said he owed his transformation thanks to a change in attitude.
"Previously I was not training to become a bodybuilder. I was simply maintaining a good physique at normal size which explains my participation in the Mr Physique competition last year," he told SNA.
"But as I went along I started to fell in love with the sport, I became aware of my potential and I got more committed."
"Basically I convinced myself to take the sport more seriously at the start of the year when I was advised by the very experienced [trainer] Regis Delorie... to put on some body mass if I wanted to compete among the big boys."
And that is what he did, he said, adding that, "It took some dieting and some other bodybuilding rituals to bulk up my muscles with the new body weight, but I was not expecting to reach this level this fast".
"I am used to watching the likes of Gabriel (Joe) and Valentin (Joelen) on my television screen from my living room. Those guys were my heroes, and to compete against them, and coming out on top at that, is such an honour," the jubilant bodybuilder told SNA.
Dugasse, pictured centre right, only had three other fellow bodybuilders to compete against as three of the country's top contestants were unable to compete this year (Patrick Joubert, Seychelles News Agency) Photo License: CC-BY
Gabriel and Valentin won second and third place respectively, while Andy Anthony, the other contestant looking to take the winner's trophy home at last Friday event, finished fourth.
Asked about his next target, Dugasse said the Mr Regatta event was too close to consider competing in, but he said he has not ruled out an appearance against the country's bests in November at the much-anticipated Mr Seychelles challenge, which Mekdachi won last year.
"Standing on the stage and in the same light with Mekdachi, Henriette and others will be very intimidating, but I am confident I will have what it takes to put on a good show," he said.
Dugasse was in this amateur's group for leaner physiques in June 2014, and stormed through his training to win the top professional honour just a year later (Patrick Joubert, Seychelles News Agency) Photo License: CC-BY
"Winning the national championship is a big step forward for me; it is a springboard to new and better things. I plan to keep working and to keep improving to achieve these new and better things."
He said he was warned about athletes not staying in the sport long enough to achieve the best reward, noting that he plans to become the best and to challenge the best until his dream was realized.  
The Chairman of the Seychelles Bodybuilding Federation (SBBF) Regis Delorie told SNA in a telephonic interview on Tuesday that he believed Dugasse was the "next big thing" in Seychelles bodybuilding.
"Since last year when I saw him in the Men's Physique, I told myself that he can do well in bodybuilding, then I spoke with him. We decided to give it a try, and it worked."
Last Friday's national championship also saw the newcomers compete for the men's physique title, contested by six athletes in total.
26-year-old Steven Rosalie emerged as the winner, overcoming the challenge of Jerry Alcindor, Andrew Nicoire, Alvin Louise, Andrew Athanase and Sam Létourdie who placed second to sixth respectively.
Delorie told SNA that he believed a few of the Men's Physique competitors could go further into bodybuilding.
"I think the first one [Rosalie] and the second one also [Alcindor], you can see them maybe later in bodybuilding because they have the potential to go further."
Sport
» Be a reporter: Write and send your article
» Subscribe for news alert