Seychelles Fregate Island Private is the 'Best Private Island' spot for honeymooners, according to the BRIDES magazine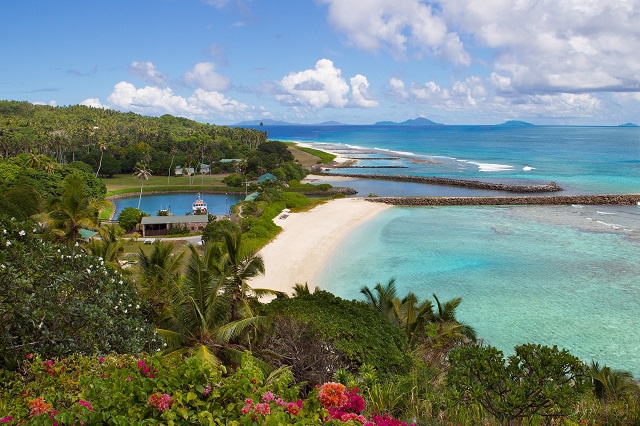 With lush tropical vegetation lining massive granite boulders and pristine beaches, privately-owned Fregate ticks all the right boxes for anyone wishing to feel truly one with nature (Fregate Island Private) 
Send to Kindle
(Seychelles News Agency) - Seychelles, an archipelago of 115 islands situated in the western Indian Ocean attracts thousands of holidaymakers from Europe, Asia, the Middle East and Southern Africa, having a variety of large hotels, guesthouses, self-catering apartments, private island resorts and spa hotels.
Aside of enticing visitors to enjoy the usual diving, fishing, sailing and eco-tourism activities, the archipelago's islands boasting powder white beaches and clear tranquil waters of turquoise and blue are also popular beach weddings and honeymoon destinations.
One of the Seychelles private island resort, Frégate Island Private, features among the recently announced winners of the first annual Honeymoon Awards by the BRIDES Magazine.
The bi-monthly bridal magazine is published by the New York-based mass media company, Condé Nast.
Apart from BRIDES, Condé Nast owns an impressive portfolio of print and media brands, including GQ, The New Yorker, Vogue, Vanity Fair, Glamour, W and Wired and boasts an estimated 164 million consumers across the globe.
Guests on Fregate can also enjoy their own private beach. (Fregate Island Private) Photo License: All Rights Reserved
According to the UK's daily mail, the first ever honeymoon awards by the BRIDES Magazine is aimed at narrowing down the wide range of choices around the world for its readers looking for the perfect honeymoon getaway.
It's the editors and writers from the magazine themselves who have personally visited and reviewed thousands of honeymoon destinations and other services to come up with their top choices.
The list comprises of what has been dubbed the best in various categories including tour operators, airline, best honeymoon hotel on the different continents and regions.
Seychelles' Fregate Island Private is the winner of the 'Best Private Island category'. The runner-up in the same category is Petit St Vincent from St Vincent & the Grenadines in the Caribbean.
The resort's luxuriously-renovated villas, cocooned among the vegetation in the exclusively private ambiance that the island is famed for where meals are served wherever the guest fancies it.  (Fregate Island Private) Photo License: All Rights Reserved
Located 55 kilometres east of the Seychelles' most populated island of Mahé, Fregate Island is one of the most idyllic island getaways of the Indian Ocean archipelago.
The island's resort which was first opened in 1998, is currently being managed by German luxury hotel brand Oetker Collection, since 2013.
The resort's owners have just spent the last two years renovating Fregate's luxurious villas, which are carefully blended into the natural vegetation of the discreet and easternmost of the inner granitic islands of the archipelago. This provides the exclusively private ambiance that the island is famed for.
In June last year, Fregate Island Private was also voted the second most expensive hotel in the World at $5,246 per night at the time, after the Seychelles North Island which topped the list, priced at an average cost of $6,695 per night, according to a survey conducted by Travelmag.com. 
Each villa features its own infinity pool, jacuzzi and sun-terrace looking out over the calm turquoise waters of the Indian Ocean. (Fregate Island Private) Photo License: All Rights Reserved
Tourism
» Be a reporter: Write and send your article
» Subscribe for news alert