Your Creole food looks yummy? Seychelles Tourism Board wants a pic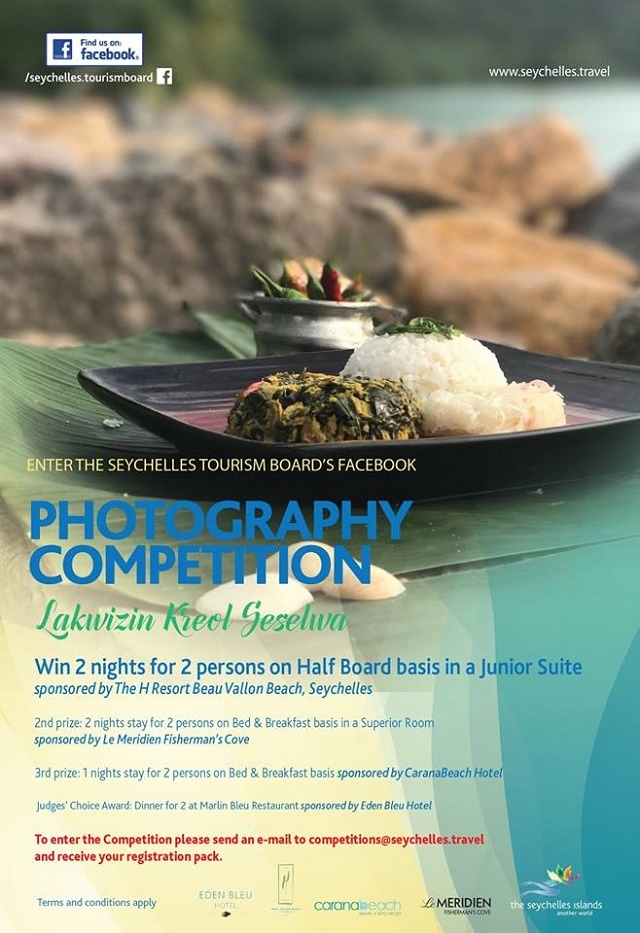 The new photography competition is open until May 7. (Seychelles Tourism Board)
Send to Kindle
(Seychelles News Agency) - If your Creole cuisine looks good enough to eat, the Seychelles Tourism Board wants you to snap a picture of it first.  
If your photo is chosen amongst the best it will be put in the board's database of images which will be used in marketing campaigns around the world. It could even be blown up as a banner at an international tourism fair.
The new photography competition themed 'Lakwizin Kreol Seselwa', Creole for the Seychellois Creole Cuisine is open until May 7 to residents of the 115-island archipelago in the western Indian Ocean. Entrants must be 18 and above.
Would you like to spend a weekend away with your loved one in a luxurious resort, with everything catered for and with no bustle and hustle of home life? Weekend stays at the H Resort and Le Meridien Fisherman's Cove and at the Carana Beach hotels are up for grabs as prizes for this competition.
Jose Uranie won first prize among five finalists with his snapshot titled 'The Grilled Red Snapper' in last years competition (Seychelles Tourism Board, Facebook) Photo License: CC-BY
"Over the past few years we have been rapidly updating our image library with various types of images for use in our marketing campaigns around the world," explained Vahid Jacob, the digital marketing director of the board. Jacob added that "the one category of images which is lacking is food images."
Jacob told SNA on Thursday that photographs must depict "the creativity and uniqueness of the Seychelles' mouth-watering Creole menu."  With the launch of the competition, Jacob and his team are "hoping to get a diverse selection of photos depicting the Seychelles' cuisine" for their image library.
To take part in the competition, participants have to send an email to competitions@seychelles.travel to receive a registration form, to be filled out and returned to the same electronic address. Also included in the registration pack is a 'Terms and Conditions' document.
Participants are allowed to submit a maximum of two photos and must inbox their entries to the board's Facebook page before 10 a.m., Seychelles time on May 7. Entries can also be dropped off at the board's headquarter located at Botanical House, Mont Fleuri -- on the outskirts of  Victoria, the capital city.
Maria Gopal with her photo titled 'The art of Creole food' came out second in last year's competition (Seychelles Tourism Board, Facebook) Photo License: CC-BY
All photos submitted must be high-resolution in JPEG or TIFF format and must have a title and description. The location of the photo and the full name of the participant must also be included.
Before entries can be considered, however, participants must ensure that they 'like' the board's Facebook page. Photos being entered in the competition should not have been part of any other national or international competition.
After an internal panel has selected the best photos, chosen images will be uploaded into an album on the board's Facebook page. Voting will start on May 8 at 2 p.m.
From there on, fans will have two days to vote for their favourite photo by giving it a 'like'. Voting closes on May 10 at 2 p.m., shortly after which, the winners will be announced.
Stephanie Hoareau with her photo titled 'Typiquement Creole' took 3rd place in last year's competition (Seychelles Tourism Board, Facebook) Photo License: CC-BY
Apart from the top three participants, a fourth winner, the most outstanding photograph, will be chosen by the internal panel. This person will walk away with dinner for two at the Marlin Bleu Restaurant at Eden Bleu Hotel.
All photos included in the album during the competition will feature in the board's image library and website. These will be used by the Seychelles Tourism Board offices around the world in marketing campaigns. Photographers will be credited accordingly.
Last year the Seychelles Tourism Board held a similar competition, themed "Best of Creole Cuisine". The digital marketing director said that though the competition went well last year, the board did not receive the variety of images they were expecting.
"Hopefully this year with the rise of Facebook groups such as "Ki menu Tanto", which has a very active membership, we will be able to hopefully get some good submissions," said Jacob.
"Ki Menu Tanto", which basically is asking what is on the menu tonight -- is a Seychellois Facebook cookery group that promotes the culinary endeavours of its over 23,000 members. The group features photos of meals prepared at home by amateurs and professional cooks.
So if you enjoy cooking and enjoy photography as well, this is your chance to show off your creativity.  
Arts & Culture
» Be a reporter: Write and send your article
» Subscribe for news alert