"Hello paradise!" Bollywood actress Sonakshi Sinha visits the Seychelles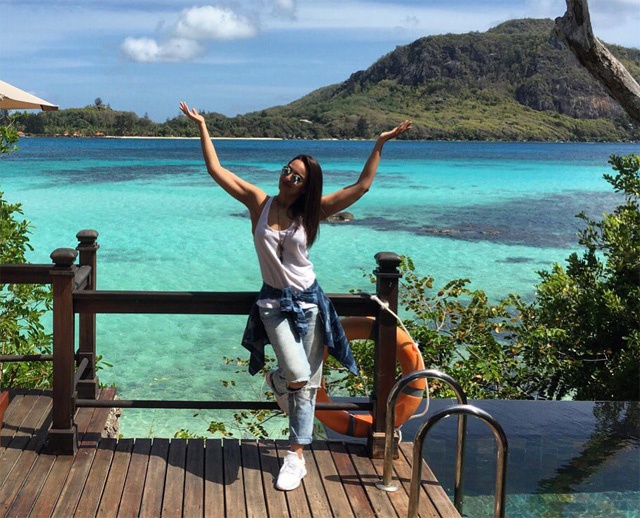 Well hello paradise! Cant wait to jump into that clear blue sea! (Sonakshi Sinha/Twitter)
Send to Kindle
(Seychelles News Agency) - She's been hard at work filming - and now promoting - her latest Bollywood movie, Force 2, but according to her social media accounts, Indian actress Sonakshi Sinha is taking a little well-deserved time off to unwind in the Seychelles.
The Bollywood beauty, who has almost 8 million followers on Twitter and over 5 million on Instagram, shared a snap of herself with arms akimbo on a wooden deck with a beautiful turquoise sea and lush green mountains as a backdrop.
"Well hello paradise! Can't wait to jump into that clear blue sea!" she tweeted, tagging the Enchanted Island Resort, where she is believed to be staying.
The resort is situated on Round Island, a tiny island in the Sainte Anne marine park, just off the main island's capital and port of Victoria. The island is owned by a Seychellois family of Indian origins, the Shahs. The Enchanted Island Resort, managed by Dubai-based group JA Resorts and Hotels, has 10 villas, each with its own infinity pool and walkways leading down to the beach. Despite the luxurious element, the island also has a dark side to its history. Until the 1940s, the island was used as a quarantine zone for lepers.
Sinha, 29, was born in Mumbai to Bollywood actors Shatrughan and Poonam and won the Filmfare Award for Best Female Debut for her role in Dabangg. She has also received acclaim for her portrayal of a woman suffering from tuberculosis in Lootera, for which she was nominated for the Filmfare Award for Best Actress in 2013.
Costume designer-turned-actress Sinha, who made her debut role in the action movie Dabangg, starring Salman Khan, went on to star with Akshay Kumar in Rowdy Rathore and Dabangg 2. Akshay was also reported to have visited the Seychelles earlier this month with his family to celebrate his 49th birthday.
The sequel to the 2011 action thriller blockbuster Force is due for release in theatres mid-November, and Sinha is playing opposite male lead John Abraham, who himself is no stranger to the Seychelles. Abraham arrived in the archipelago last year to shoot some scenes for the movie Rocky Handsome.
Situated in the western Indian Ocean, just a few degrees south of the equator, it seems clear that the 115-island archipelago of Seychelles is ideally placed for Bollywood celebrities to escape here for a little relaxation, privacy - and some long, luxurious dips in the Indian Ocean. 
People
» Be a reporter: Write and send your article
» Subscribe for news alert