NATO brands Russian nuclear move 'dangerous and irresponsible'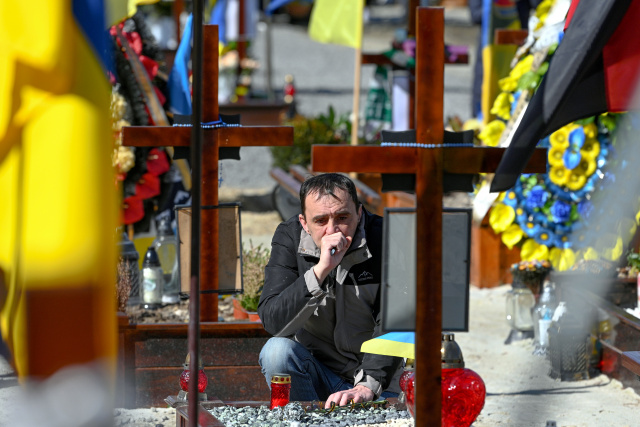 A visitor reacts at a graveside at Lychakiv military cemetery in Lviv, western Ukrainian on March 18, 2023, amid the Russian invasion of Ukraine. Located in a southeastern district of Lviv, a large city in western Ukraine some 1,000 kilometers from the front line but sporadically affected by Russian strikes, the historic Lychakiv military cemetery houses thousands of remains, many lively and highly decorated with stuffed animals, drawings, cigarettes, and cups of coffee placed at the graves. (Photo by YURIY DYACHYSHYN / AFP)
Send to Kindle
(AFP) - The NATO alliance on Sunday condemned Russia's announcement that it would deploy tactical nuclear weapons to Belarus as "dangerous and irresponsible".
But spokeswoman Oana Lungescu said the western allies had not yet "seen any changes in Russia's nuclear posture that would lead us to adjust our own."
Ukraine has sought an emergency meeting of the UN Security Council to discuss Moscow's plan, announced Saturday, to deploy tactical warheads to neighbouring Belarus.
Russia launched a full-scale invasion of Ukraine last year, with some of its troops crossing the border through its ally Belarus, and Kyiv sees the move as "nuclear blackmail".
President Vladimir Putin counters by comparing the move to the United States basing some of its nuclear arsenal on the territory of its European allies.
But NATO joined Germany in dismissing this analogy.
"Russia's nuclear rhetoric is dangerous and irresponsible. NATO is vigilant, and we are closely monitoring the situation," Lungescu said.
"Russia's reference to NATO's nuclear sharing is totally misleading. NATO allies act with full respect of their international commitments," she said.
"Russia has consistently broken its arms control commitments, most recently suspending its participation in the New START Treaty," she said.
Last month Putin said that Moscow would suspend participation in the New START treaty, the last nuclear arms control pact between Russia and the United States.
"Russia must return to compliance and act in good faith," the NATO spokesman said.
© Agence France-Presse
General
» Be a reporter: Write and send your article
» Subscribe for news alert