UN issues hunger alert for Haiti, Sahel and Sudan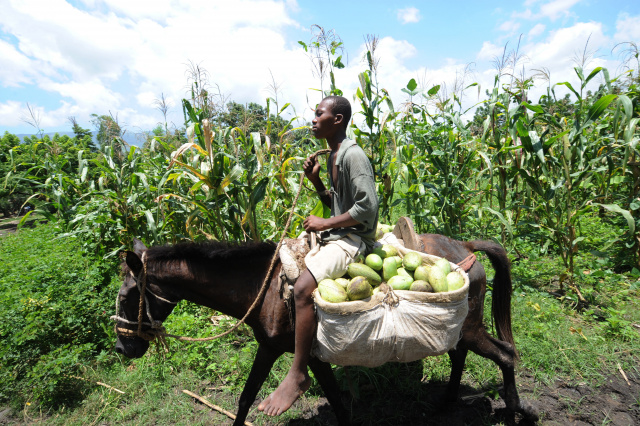 A Haitian man passes a field of corn on July 6, 2010 in the small community of Mirebalais, approximately 60 km northeast of Port-au-Prince. Haiti was already the most impoverished nation in the Americas before the January 12 earthquake, and six months on the needs of destitute and the poor have grown only more acute, but many Haitian farmers have concerns that the aid that does reach them may be inappropriate for this Caribbean nation or even harmful. In May thousands protested against a four-million-dollar seed donation by giant multinational Monsanto which sparked debate over the quake-hit nation's aid policies and agricultural future. AFP PHOTO / Thony BELIZAIRE (Photo by THONY BELIZAIRE / AFP)
Send to Kindle
(AFP) - Haiti, the Sahel and Sudan now rank among the UN's highest alert areas for food insecurity, requiring "urgent" action from the international community, food agencies warned Monday.
The Rome-based Food and Agriculture Organization (FAO) and World Food Programme (WFP) said Afghanistan, Nigeria, Somalia, South Sudan and Yemen remain at the highest alert level.
And now Haiti, the Sahel -- Burkina Faso and Mali -- and the Sudan join them, the agencies said in a joint report.
The move follows the severe restrictions on movement of people and goods in jihadist-hit Burkina Faso and Mali as well as crisis-wracked Haiti, and the recent outbreak of conflict in Sudan, the report said.
All hotspots at the highest level have "communities facing or projected to face starvation, or at risk of sliding towards catastrophic conditions," it said, adding that they required "the most urgent attention".
The report spotlights the risk of a spillover of the Sudan crisis, and says a likely El Nino climatic phenomenon is raising fears of climate extremes in vulnerable countries around the globe.
El Nino is the large-scale warming of surface temperatures in the central and eastern equatorial Pacific Ocean.
The "expected shift in climate patterns will have significant implications for several hotspots", the report warned.
Those include "below-average rains in the Dry Corridor of Central America", and potentially "consecutive extreme climatic events hitting areas of the Sahel and the Horn of Africa", it said.
© Agence France-Presse
General
» Be a reporter: Write and send your article
» Subscribe for news alert