A Seychelles Buzz to remember: 10 memories from a tumultuous 2016
(Gerard Larose, Seychelles Tourism Board)
Send to Kindle
(Seychelles News Agency) - As we wrap up a politically tumultuous year -- both globally and locally -- SNA takes a look at the key events that most made their mark on this island nation in 2016. 
1. Oldest Seychellois celebrated her birthday
Nancy Marie, the oldest person in the island nation, celebrated her 107th birthday in January. Old age did not stop her from hitting the dance floor.
(Louis Toussaint, Seychelles News Agency) Photo License: CC-BY
2. The country lost a young Seychellois in a plane crash
Seychelles grieved the death of 23-year-old Alex Confait who lost his life when Flydubai flight FZ981 crashed in Rostov-on-Don, Russia in March. He was one of seven crewmembers onboard the aircraft.
   (Facebook) Photo License: CC-BY
3. Tropical cyclone strikes a Seychellois island
Fantala, with winds of over 330km/h, damaged infrastructures on Farquar in April. A World Bank team estimated the damages and loss at $4.5 million. No injuries were reported.
   (NASA) Photo License: CC-BY 
4. UN Secretary-General paid official visit to Seychelles
May was marked by the official visit of UN Secretary-General Ban Ki-moon. Speaking at a reception hosted by President James Michel at State House, Ban said he was impressed by the Seychelles' sense of responsibility in the world.
  (Mervin Marie) Photo License: CC-BY
5. The penal code was amended to decriminalize the act of sodomy
On Tuesday 17 May, the Seychelles' National Assembly passed an amendment to the penal code decriminalizing the act of sodomy. The proposal, first made by President James Michel in his State of the Nation address, received 14 votes in favour while 14 members abstained.
   (Patrick Joubert, Seychelles News Agency) Photo License: CC-BY 
6. 40 Years of Independence
This year on June 29, Seychelles celebrated 40 years of independence from Britain. Among activities held was a four-day national show and a fly-over by two Twin Otters and one Airbus 330 from the national airline, Air Seychelles.
   (Joena Bonnelame, Seychelles News Agency) Photo License: CC-BY
7. 3 dead, 3 rescued after boat capsizes in Seychelles
The popular Feast of the Assumption on La Digue was marred by a boat accident on 14 August in which three people died and three others, including a 6-year-old boy, survived the incident.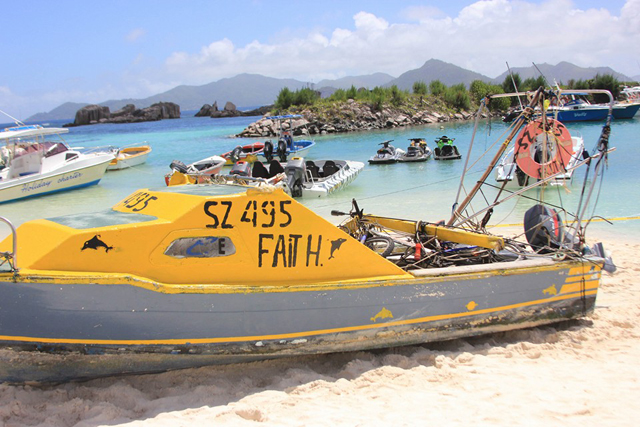 (Vanessa Lucas) Photo License: CC-BY
8. Opposition coalition LDS wins National Assembly elections
For the first time since the return of multiparty democracy in Seychelles an opposition coalition -- LinyonDemokratik Seselwa (LDS) --won parliamentary polls.
   (Rassin Vannier, Seychelles News Agency) Photo License: CC-BY
9. Danny Faure swears in as Seychelles' new President
Danny Faure was sworn in to office on Sunday October 16, becoming the Seychelles' fourth president since the island nation gained independence from Britain. He succeeded James Michel, who resigned in September.
   (Rassin Vannier, Seychelles News Agency) Photo License: CC-BY
10. Seychellois sailor wins gold at African sailing championship in Mozambique
Allan Julie won a gold medal in the laser standard category in the African championship in Maputo, Mozambique.
   (Patrick Joubert, Seychelles News Agency) Photo License: CC-BY
Seychelles Buzz
» Be a reporter: Write and send your article
» Subscribe for news alert